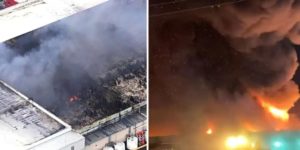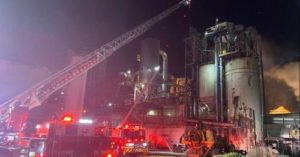 Norfolk, VA Food Processing Plant Fire
By:  Ed Smith
May 3, 2022
With food prices already skyrocketing in the US, concern about the large number of food processing plant fires in the country is growing at a rather alarming rate.  Some of the shortages are caused by other factors such as supply-chain issues, shipping issues, etc.  But, now there is the threat caused by American food processing or fertilizer plants burning, leaving the cause of the blaze unknown.
The shortage of food and fertilizer that is the result of Russia's invasion of the Ukraine and the sanctions of the West in response was already a major player in the causation list of the food shortage.  Since Russia is a major manufacturer of fertilizer, farmers in the US are alarmed that they won't be able to get sufficient fertilizer to produce their usually bounteous crop.
Now, the food processing plant fires add to the situation.
One analyst calls these fires "the next slow-moving disaster to hit the world."
A News story says, "There have been more fires and other major accidents at food processing facilities in the last few weeks than in the previous decade.  The odds of it all these fires being a coincidence seems infinitesimal."
Most of the news reports about each of these fires contains the phrase, "…with the cause of the fire unknown…."
I wonder if anyone can adequately explain why these massive fires keep erupting again and again at critical facilities all over America?
Here is a list of food processing plant fires that have occurred as of April 24, 2022.  It is possible that there have been other fires since this list was created that I don't know about.
 #1 Salinas, California
"About 85% to 95% of the building is a total loss," Deputy Fire Chief Sam Klemek.
#2 Hermiston, Oregon
City officials are concerned what the fire could mean for the community and local economy.
#3 Conway, New Hampshire
Neighbors banded together to support crews as they battled a fire in Conway for about 16 hours Monday night.
#4 San Juan, Texas
On March 31, 2022, a structure fire significantly damaged a large portion of the largest fresh onion packing facilities in South Texas.
#5 Jonesboro, Arkansas
Nestle opened the plant in 2002 and in December 2020 the company unveiled plans to invest more than $100 million to expand the frozen foods plant, including the addition of 90,000 square feet and a new production line for Hot Pockets frozen sandwiches. In addition to Hot Pockets, Nestle makes products under the Stouffer's, Lean Cuisine, DiGiorno, Tombstone and Sweet Earth brands at the plant.
#6 Mauston, Wisconsin
A portion of Mauston's Wisconsin River Meats burnt down during an overnight fire Feb. 2-3.
#7 Fayetteville, Illinois
A Jan. 11 fire destroyed a 75,000-square-foot processing plant in Fayetteville, about 40 miles southeast of them.
#8 Belfast, Maine
Fire crews from several towns have been battling a fire at the Penobscot McCrum potato processing plant in Belfast.
#9 Leoti, Kansas
The Ford County Regional Hazardous Materials Team deployed to Leoti for the fire and was fighting the blaze and removing hazardous material, Wichita County Clerk Lynda Goodrich said.
#10 Claypool, Indiana
Louis Dreyfus Company (LDC) said on Wednesday a fire had broken out in a bag house at its Claypool, Indiana, soybean processing and biodiesel plant on Tuesday and the affected systems had been suspended.  LDC says Claypool is the largest fully integrated soybean processing and biodiesel plant in the United States.
#11 Winston-Salem, North Carolina
An uncontrolled fire at a fertilizer plant in North Carolina forced thousands of people to evacuate as firefighters stood back Tuesday because of the danger of a large explosion.
#12 Sunnyside, Washington
A smoldering pile of sulfur quickly became a raging chemical fire just after 1 p.m. Monday at Nutrien Ag Solutions, 1101 Midvale Road, Sunnyside Fire Chief Ken Anderson said.
#13 Lecompte, Louisiana
A fire started at the Cargill-Nutrena feed mill in Lecompte, LA in the early hours of Thursday morning and burned for 12 hours, coverage by local television news station KALB said. An explosion reportedly occurred as firefighters were working the scene.
#14 Maricopa, Arizona
It's a long road to recovery for Maricopa Food Pantry after a fire destroyed around 50,000 lb of food. The fire happened just 15 minutes after their food bank closed on Monday morning.
#15 Dufur, Oregon
The headquarters of Azure Standard, the nation's premier independent distributor of organic and healthy food, was destroyed by fire overnight. There were no injuries. The cause of the fire is unknown and under investigation.
#16 Planfield, Indiana
Investigators from the ATF's National Response Team began its on-scene investigation on Friday into the massive fire at a Walmart facility in Plainfield.
#17 Norfolk, Virginia
No one was injured in the fire at a Perdue soybean plant in Norfolk, Virginia, according to WAVY-TV, and the cause had not yet been determined.
#18 Fresno, California
fire broke out at a Saladino's food processing plant in Fresno, California, according to KFSN-TV.
#19 Covington, Georgia
"A plane apparently crashed at a General Mills plant … in Covington, Georgia. Six tractor-trailers were reportedly on fire … This is the second time in a week that something like this has happened,"
–Source:  Various news sources…