'A Fighting Spirit': CBN News Captures Powerful Ukrainian Moments of Seeking God as Deadly Russian Assault Rages
CBN News' senior international correspondent George Thomas continues to be in the middle of the Ukrainian war zone, sharing videos and images of the troubling, traumatic — and inspiring — events unfolding on the ground.
Amid the chaos of Russia's invasion, Thomas has shown viewers what is happening in real-time, capturing the Ukrainian people's spirit, grit, and determination.
"The general tone is one of determination, of courage, of a fighting spirit," Thomas told Faithwire, noting that many of those he has spoken with on the street are in awe of Ukrainian President Volodymyr Zelenskyy. "Somebody said to me, 'He hasn't even shaved, and look at the way he's rallying the country, rallying the troops … he's in the trenches.'"
Thomas said the Ukrainian forces' success in holding back Russian troops thus far has "motivated the nation" as citizens rally to sustain their country from the ongoing Russian onslaught.
Courtesy CBN News
While Translating Ukrainian President Volodymyr Zelenskyy's Speech, A veteran interpreter broke down in tears as she relayed the leader's remarks after the country survived yet another night of attacks by Russian troops.
"Russia is on the path of evil," Zelenskyy said. "The world must deprive Russia of the right to vote on the U.N. Security Council."
The interpreter then choked up when translating this comment from Zelenskyy: "Ukrainians, we know exactly what we are defending. We will definitely win. Last night was brutal in Ukraine. Again, the shelling, again the bombing of residential areas and civilian infrastructure."
The unnamed interpreter for the German news outlet WELT could not translate the remainder of the Ukrainian president's comments. After breaking down once more, she reportedly apologized before going off the air.
For his part, Zelenskyy — who has refused to flee his country despite threats against his safety — said Ukraine will fight as long as necessary to ensure its citizens' freedom and autonomy from Russia.
"The night was hard," he said Sunday. "The people rose to defend their state, and they showed their true faces. This is terror. They are going to bomb our Ukrainian cities even more. They are going to kill our children even more insidiously. This is an evil that has come to our land and must be destroyed."
"If children are born in shelters, even when the shelling continues, then the enemy has no chance in this — undoubtedly — people's war," Zelenskyy continued. "To victory! Glory to Ukraine!"
Courtesy Faithwire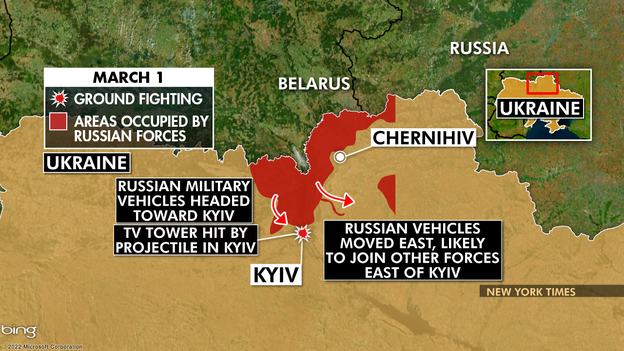 Russia warns a third World War would involve nuclear weapons
Russian Foreign Minister Sergey Lavrov said Wednesday that if a third World War were to start, it would involve nuclear weapons and be destructive, Reuters reported, citing Russian state media. 
Lavrov also reportedly said that it would be a "real danger" if Kyiv obtained nuclear weapons.
Courtesy Fox News
Russia claims to capture city of Kherson, but Ukraine denies
Russia on Wednesday is claiming to have captured the southern Ukrainian city of Kherson, which has around 250,000 residents, according to Reuters.
But an advisor to Ukrainian President Volodymyr Zelenskyy told the news agency that "the city has not fallen, our side continues to defend" and that street fighting is ongoing there.
Overnight, the regional governor of the area reportedly said Kherson was surrounded and under fire while Russian forces were looting businesses.
Courtesy Fox News
China may emerge as the primary beneficiary of the Russia-Ukraine war
A former FBI special agent who worked on China and North Korea tells Fox News Digital.
"Ultimately, China is the big winner in the Russia-Ukraine War," Steve Gray, a former FBI special agent who is running for Congress in New Jersey's 4th Congressional District, said.
"They'll be the primary beneficiary of the sanctions against Russia, the yen will benefit from the decline of the ruble, and they have been given a case study of what the world's response would look like if they were to invade Taiwan."
"It would not be surprising at all to learn that this is shaping up exactly as China planned," Gray, who spent 10 years working as a supervisory special agent focused on China and North Korea, added.
Courtesy Fox News
Assassination Attempt On Zelensky Foiled After Tip-Off From Russian Spies, Ukrainian Official Claims
An assassination attempt on Ukrainian President Volodymyr Zelensky was foiled and a Russian hit squad was "destroyed" after Ukrainians were tipped off by Russian spies, a Ukrainian official said Tuesday on Ukrainian television.
Secretary of Ukraine's National Security and Defense Council Oleksiy Danilov said "that his country received information about a planned assassination attempt on President Volodymyr Zelensky from agents of the Federal Security Service of the Russian Federation (FSB)," National Review reported.
"I can say that we received information from representatives of the FSB, who today have no desire to take part in this bloody war," Danilov said.
"The Kadyrovites' elite group, which came here specifically to eliminate our president, was directly destroyed," the official added.
"Kadyrovites refers to a Chechen paramilitary group accused of a number of human-rights violations and abuses," National Review noted. "They serve at the pleasure of Razman Kadyrov, the head of the Chechen Republic and a close ally of Vladimir Putin."
Courtesy the Daily Wire
2