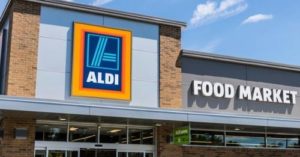 In the Pictures:
Top:   Aldi Memphis
Bottom:  Aldi in the UK has woman held at knife point by robber.
It's happening all too soon in America these days.  Angry mobs destroyed and took over cities in the name of "defunding the Police," and now, that reckless attitude about law enforcement is taking America by storm, mostly in liberal-minded cities across the country.
Now, Aldi is closing in Memphis.  Because of out of control crime.
"Aldi announced Thursday they will shut down their store located on Lamar Avenue because of crime.
"We do not take the closing of this location lightly," a spokesperson for the grocery store chain said. "Our decision was based on several factors, including repeated burglaries, property damage and poor sales performance. Out of concern for our employees and customers, keeping this store open was no longer a sustainable option. Our employees will continue to work at one of our other ALDI locations in the immediate area."
Local residents say they are disappointed, but not surprised.
"Absolutely ridiculous the grocery store is closing due to crime," one resident wrote on Facebook. "Lord have mercy can't have nothing in this city. This is sad as hell."
"The neighborhood elders appreciate the business community, but this new generation only have their hands out for what someone will give them or what's not nailed down to steal," wrote another.
It's even more disturbing to know that the Democrat nominee for District Attorney wants to soften criminal penalties. Steve Mulroy even wants to try 25-year-olds in juvenile court.
"When people do not mind walking in stores and filling up baskets of things they intend to steal knowing they are on camera like they have hit the jackpot with little effect to them who should be surprised," wrote another outraged citizen. "It is done daily in Memphis. What business wants to keep supporting this? Then add in the fact the customers are robbed or car jacked at the stores in broad daylight including the elderly."
Another wrote, "One of the decent stores want to have anything in these crime infested neighborhoods and nothing is being done about crime and we wonder why they don't want their businesses in the black neighborhoods and it hurts the decent hard working people and elderly that are trying to make it."
–Courtesy Todd Starnes